ALL RECYCLING
(845) 562-7530
279 S. William St. Newburgh, NY 12550
DMV# 7098386
Scrap Metal, Late Model Wrecks, Junk Cars & Trucks, & All Metal Products and E-Waste
We Take It All And PAY CASH
Mon – Fri 8AM – 5PM
Sat 8AM – Noon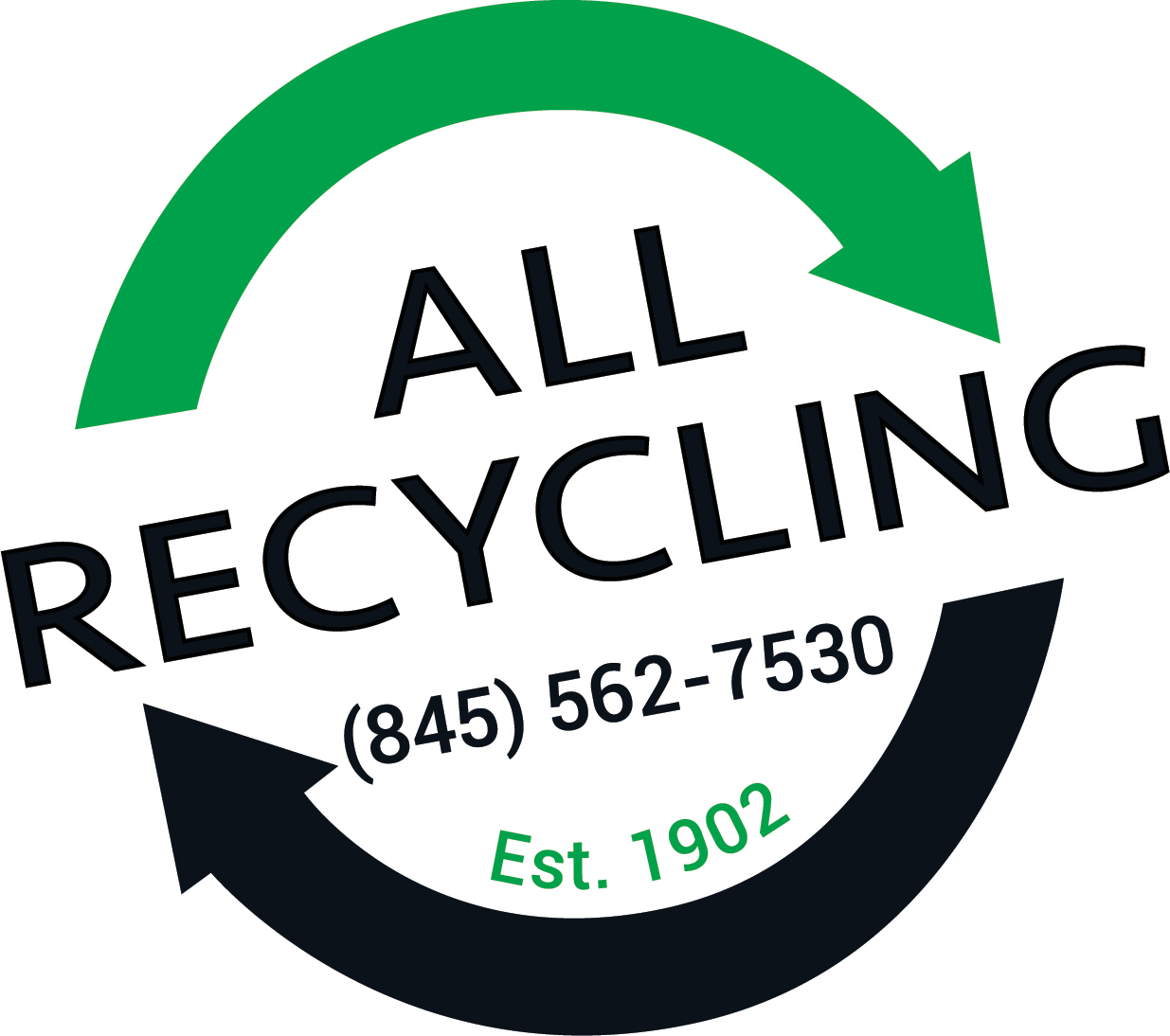 Metals are materials that can be recycled again and again without degrading their properties. Scrap metal has value, which motivates people to collect it for sale to recycling operations.
In addition to a financial incentive, there is also an environmental imperative. The recycling of metals enables us to preserve natural resources while requiring less energy to process than the manufacture of new products using virgin raw materials. Recycling emits less carbon dioxide and other harmful gasses. More importantly, it saves money and allows manufacturing businesses to reduce their production cost. Recycling also creates jobs.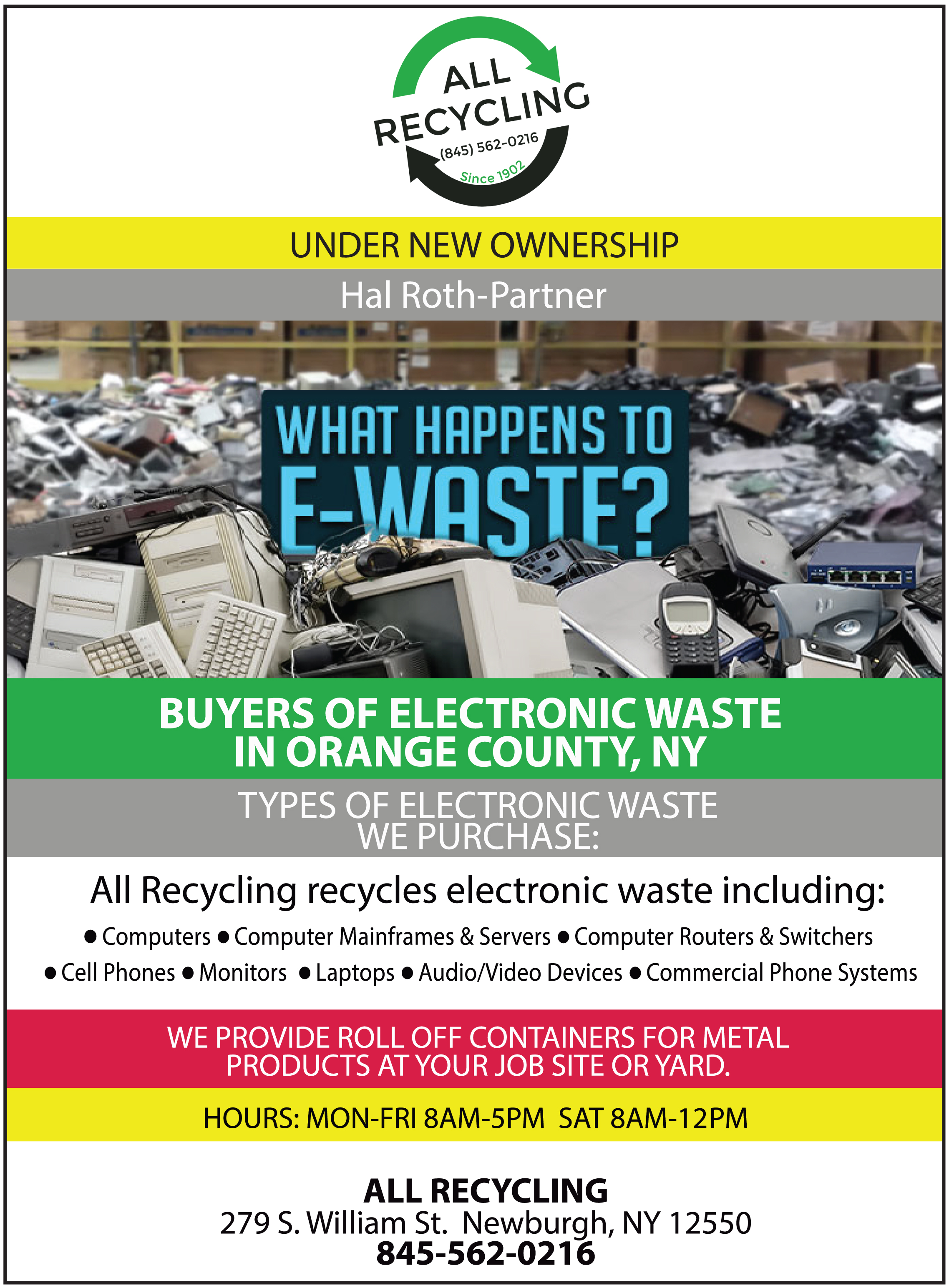 Late Model Wrecks
Ferrous & Non-Ferrous Scrap Metals
E Waste 
We buy all types of metal.  Whether you are an individual or a contractor we will give you CASH for any scrap metal, ferrous or non-ferrous.
Late Model Wrecks, Junk Cars & Trucks, Unwanted Vehicles & Abandoned Vehicles
Every year, over 25 million tons of materials are recycled from old vehicles.

Automobiles are the most recycled consumer product in the world today.
The car recycling Industry is the 16th largest in the United States, contributing $25 billion per year to the national GDP. The US automotive recycling industry employs around 100,000 people.

Every year, the automobile recycling industry in USA and Canada provides sufficient steel to produce roughly 13 million new vehicles.
We Accept All Types Of Metals…
Given a single family home of approximately 2,100 square feet, the copper content is estimated as follows:
195 pounds – building wire

151 pounds – plumbing tube, fittings, valves

24 pounds – plumbers' brass goods

47 pounds – built-in appliances

12 pounds – builders hardware

10 pounds – other wire and tube
Given an average multifamily unit of 1,000 square feet, the copper content can be estimated as follows:
125 pounds – building wire

82 pounds – plumbing tube, fittings, valves

20 pounds – plumbers' brass goods

38 pounds – built-in appliances

6 pounds – builders hardware

7 pounds – other wire and tube
Power Tools, Office Machines…
All Metal Office Equipment
See list below for all itesms we accept.
Convenient Drop-Offs & Roll-Off Service
Mon – Fri.   8am – 5pm
Sat  8am – Noon
Sun – Closed
Here Is A List Of The Most Common Electronics We Accept:
Batteries
Cell Phone & Accessories
Circuit Boards
Computers & Peripherals
Gaming Consoles
GPS Systems and Devices
Hard Drives/solid State Disks
Laptop Computers
Memory Modules
Networking Equipment
Optical Drives (CD, DVD, etc)
Optical Media (CD, DVD, etc)
Paper Shredders
Power Supplies
Power Tools
Servers
Tablet Computers
Telephones
Television Accessories
Typewriters
Video Game Consoles
Video Players (DVD, etc)
Wires and Cabling
…and much more – even if it's broken or non-working!

"Did better here than other scrap metal places  A great find!"
Fred M. Goshen, NY

"Fast, Quick & Easy Drop-Off Of My Recyclables "
"In and out in less than 10 minutes.  Fast, quick and easy drop off of my recyclbles."
Craig W. Newburgh, NY

"Another successful experience"
"Been coming here for years.  just got rid of my old car thats been sitting in my back yard for years.  Another successful experience here."
Bill C.  West Point, NY

"Very Fair – Cash On The Spot"
"No nonsense, very fair, got cash on the spot.."
Vinny C.  Warwick, NY
E-Waste Is Responsible For 70% Of All Toxic Chemicals Found In Landfills
Electronic waste (e-waste) contains toxic materials that harm both humans and our environment.  In fact, there's over 1,000 toxins required to help create the new electronics we use each day.  Unfortunatley, these same chemicals end up in the ground, and our water, when disposed of improperly. 
About 40% of the toxic heavy metals found in the waste system are from discarded eletronics.
What is considered e-waste? More than just outdated cell phones, e-waste is any electronic waste that is no longer wanted or is now obsolete, whether it works or not. Televisions, old VCRs, DVD players, stereos, copiers, fax machines, tablets, computers, and plenty more electronic devices all become e-waste as soon as they are not wanted anymore.
MON – FRI
8:00am – 5:00pm

(845) 562-7530
279 S. Williams St. Newburgh, NY 12550